Precious Cargo: Collins & Lacy, P.C. Calls on Community to Donate Items for Foster Children
[COLUMBIA, S.C. May 9, 2016] – May is National Foster Care Month, and to promote awareness, Collins & Lacy, P.C. is teaming up with the South Carolina Youth Advocate Program (SCYAP), a provider of foster care and community-based services, to host a statewide item collection drive for the organization's Precious Cargo program.
The non-profit organization is a child-placing and family serving entity that provides treatment, advocacy, and services to children and families dealing with serious emotional, behavioral, psychological, and/or development issues. Precious Cargo is a program developed by SCYAP to provide stuffed duffle bags to foster children the day they enter the organization's care. The duffle bags contain basic toiletries, school supplies, and comfort items such as a stuffed animal and blanket. The bags are prepared for specific age groups and separated by male and female, so they are personalized for each child. This is an important gesture of caring and support for a vulnerable child at a traumatic time in their life.
For two weeks in May, the offices of Collins & Lacy, P.C. (Columbia, Greenville, and Myrtle Beach) will be accepting donations for Precious Cargo. Members of the community, as well as Collins & Lacy staff, are asked to donate items to help fill the duffel bags, such as soap, toothbrushes, tissues, coloring books, and pencils. For a complete list of needed items, please click here. Monetary donations for the program can be made through SCYAP's website at https://www.scyap.com/GetInvolved/MakeADonation.aspx.
All donations can be dropped off at the Collins & Lacy, P.C. offices on the business days of May 16-27, between the hours of 9:00 am and 5:00 pm. To find the location closest to you, please visit the firm's website at http://collinsandlacy.com/contact-us/. For any questions, contact Collins & Lacy Marketing Director Janie Langdale at jlangdale@collinsandlacy.com.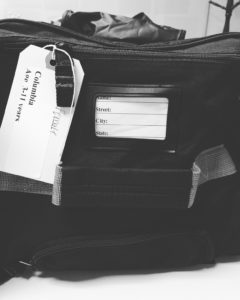 "Supporting the Precious Cargo program is a wonderful way to involve the community and highlight the vital work SCYAP is doing for the children and families of our state," said Christian Boesl, Collins & Lacy shareholder. "We are proud to team up with SCYAP to help spread awareness of the foster care needs in our state, and to give these kids a feeling of 'home' wherever they may be."
"SCYAP distributes over 400 Precious Cargo bags to foster children every year and it is a special moment for each child when they receive their bag," said Gail Cole, Development Liaison with SCYAP. "The stuffed animal is immediately taken out as for a hug and then the child usually asks if all of this is really just for them. They just can't believe it, and often it is the first time we have seen them smile all day."
To find out more about the South Carolina Youth Advocate Program, visit https://www.scyap.com/Home.aspx.
ITEMS USED IN PRECIOUS CARGO BAGS
Completed duffle bags are prepared based on three age group categories: birth- 2 years; 3-11 years; 12 years and up. The baby bags contain baby items as well as the baby blanket, etc. The bags for the older children contain regular fleece blankets and a stuffed animal along with the other items.
Toiletry & Comfort Items
Shampoo
Conditioner
Soap
Deodorant
Toothpaste
Toothbrush
Dental Floss
Kleenex
Bibs
Teethers
Baby Washcloth
Baby Blanket
Baby Wash
Baby Lotion
Diaper Cream
Wipes
Baby Story Books
Special Blanket
Stuffed Animal
School Supplies
Crayons/Coloring Book
Washable Markers
Glue Sticks
Pencils- all school ages
Composition Books
Notebook Paper
Dictionary
Calculator
Blue or Black Pens
2 Pocket Folders
Zipper Pencil Holder
Highlighters