Stan Lacy Becomes 2016 Platinum Recipient of Compleat Lawyer Award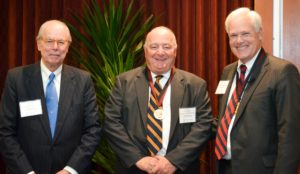 Here at Collins & Lacy, P.C., we could not be more thrilled to announce our very own co-founder, Stanford E. Lacy, has been named a Platinum Recipient of the 2016 Compleat Lawyer Award, given by the University of South Carolina School of Law. Stan celebrated the honor with family, friends, and colleagues at a special dinner held in Columbia, South Carolina on April 21, 2016.
In 1992, the University of South Carolina School of Law Alumni Council created the Compleat Lawyer Award to recognize attorneys for their civic and
professional accomplishments. Stan received the Platinum Award, an honor given to up to three attorneys who have been in practice for more than 30 years. Collins & Lacy, P.C. co-founder and past Platinum recipient of the award, Joel Collins, was thrilled to have been asked to be on a video honoring Stan that was shown at the awards dinner.
Stan's accomplishments in both the legal realm and in the community are on par with the criteria of this prestigious award. Stan has been practicing law for over 40 years and has been involved in numerous activities in the civic sector, giving of his time and experience.
Having devoted his practice to workers' compensation defense, Stan's legal career includes arguing many landmark cases to the Supreme Court, managing appeals to all appellate court levels, and working on industry-changing legislation on behalf of South Carolina. Stan frequently conducts workshops on compensation laws for clients and businesses, and he is also a certified South Carolina Court Mediator. Stan is considered by his peers to be one of South Carolina's pre-eminent attorneys according to Martindale-Hubbell and is consistently selected to be included in South Carolina Super Lawyers and The Best Lawyers in America, two of the oldest and most respected peer-review publications in the legal profession. He has also received the Lifetime Service Award from the South Carolina Workers' Compensation Educational Association (SCWCEA) in 2012.
In the community, Stan has also been very active: serving on committees in his church and participating in the British Car Club Midlands Centre, where he has held both positions of Vice President and President. But it was the Boy Scouts of America that claimed many years of his volunteer service, where Stan served as Cub Master and District Chairman. Within the Scouts, Stan was recognized by the council by being presented with its highest honor, the silver Beaver. 
Stan was invited by Dean Harry Lightsey of the University of South Carolina School of Law to teach the workers' compensation course in 1981 and has taught it consistently ever since. It will be his 35th year teaching the course.
"I can think of no attorney more deserving of this honor than Stan Lacy," said Ellen Adams, workers' compensation practice group chair. "His influence spans the classroom, the court room, the community, and the General Assembly. We are so proud of our partner, Stan Lacy."
Stan continues to thrive today within the legal and civic community. After much consideration and self-reflection, Stan has decided to shift his focus from the workers' compensation area of law and move it to focusing on mediation work, mediating cases throughout the state. Who better to mediate cases than someone who has all the knowledge and experience Stan Lacy has to offer?