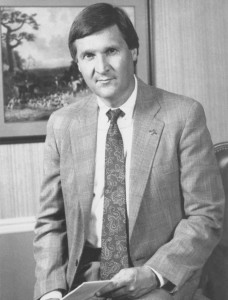 Thirty years ago, Stan and I founded Collins & Lacy. But before that, we were just good friends – both practicing law in Columbia, South Carolina.We became friends while I was an Assistant United States Attorney, and he was an Assistant Federal Public Defender. We never had a case against each other, but frequently bumped into one another. I remember how jolly he usually was, and we both enjoyed telling a good joke.
Although Stan and I had discussed the possibility of practicing law together, that opportunity did not arise until 1982 when I left the firm I was with at the time to start a personal practice. In those days, AIG had an office in Columbia, and the manager of that office was Mike Bice. Because Mike liked my work, he recommended to his superiors that I be placed on the approved panel counsel list so he could send me cases. There came a time in 1983 when Mike asked if I could also handle workers' comp defense cases. I told him I had no experience, but one of my good friends was probably the best workers' comp lawyer in town – I was of course referring to Stan. From then on, Mike would send comp cases to me, and I would associate with Stan who was at that time practicing law with another firm. As the practice grew, it became obvious that forming our own law practice made perfect sense.
Even now, it still makes sense. As I reflect on the past 30 years, I am proud of our reputation. We have worked hard over the years to earn a good reputation, including among the judges, with whom I believe we have as good a reputation as any firm in this state. I am proud of the impeccable integrity of the people at our firm, proud of our commitment to fairness, and proud of our service to the communities in which we live and work.
Over the years, I've enjoyed being a mentor to very good young men and women at our firm. I remember how I respected and valued the mentoring that was extended to me. As a result, I've diligently tried to be a good mentor to others, for I believe we all drink from wells we did not dig, and we are warmed by fires we did not build.
Looking back, Stan and I never envisioned we'd be would build the firm we have today. For a while, it was touch-and-go, but we worked hard and have exceeded all of the early goals we set for our blossoming practice. My hope for the future of Collins & Lacy is that more people will find this to be a place where they can dream big and attain their goals. I sincerely believe that whatever a person's professional goals are, those goals can be achieved here at Collins & Lacy.