Greenville Business Magazine Names Collins & Lacy Attorneys as Legal Elite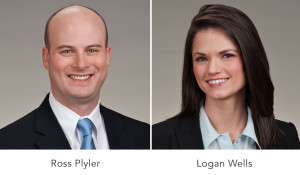 Collins & Lacy, P.C. is pleased to announce Ross Plyler and Logan Wells have been recognized by their peers as members of Greenville Business Magazine's 2014 Legal Elite of the Upstate.
Ross Plyler is receiving the Legal Elite honor for his work in civil litigation. Plyler is a shareholder in Collins & Lacy's Greenville office and practices in the area of business and employment law, college and university law, transportation law, and insurance coverage. In Plyler's employment practice, he represents employers in litigation and alternative dispute resolution and advises on ways to minimize risk.
Collins & Lacy's Logan Wells has been nominated by her peers as a Legal Elite attorney in insurance law. Wells practices in the Greenville office in the areas of insurance coverage and professional liability. Logan provides coverage advice and represents American and international insurance companies in litigation of coverage and extra-contractual claims.
The Legal Elite are voted on by Upstate attorneys who choose the top lawyers in 20 different categories. Greenville Business Magazine will honor the Legal Elite with a reception on August 28.