Attorney Jake Thompson Joins Collins & Lacy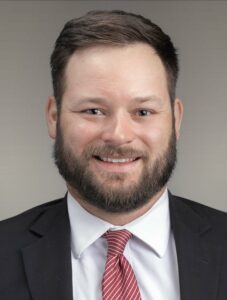 [COLUMBIA, S.C. September 6, 2023] – Jake Thompson has joined Collins & Lacy's Columbia office as an associate in the Retail & Hospitality practice group.
A native of Florence, South Carolina, Jake received his undergraduate degree in history from The University of the South: Sewanee. In 2021, he graduated from the University of South Carolina School of Law.
He served as an intern in Senator Lindsey Graham's office and worked as a law clerk at firms in Florence and Columbia.
Most recently, Jake served as an associate attorney for a Lexington, South Carolina law firm.
"We are very pleased to welcome Jake to the Retail & Hospitality practice group," remarked practice group leader and firm president, Christian Stegmaier. "He has the demonstrated skill set we look for to provide excellent service to our clients as we continue to expand the largest dedicated retail & hospitality litigation team serving South Carolina. Collins & Lacy continues to grow and we're glad Jake is a part of the team."