After 30 years of existence, Collins & Lacy has left its mark on the legal community and the state of South Carolina. I'm proud of our group of lawyers. They are like family to me. And I'm proud of and pleased with the many friends I have made along the way.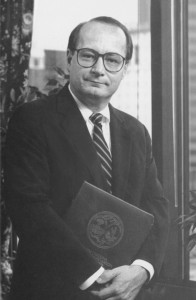 Joining Joel in the practice of law was a pivotal point in my legal career as well as a turning point in my life. Not only did I join a man who was regarded as one of the best lawyers in the courtroom, but Joel and I completed a loop that began years earlier.
Our dream of opening Collins & Lacy dates back to the late 1970's when Joel was an Assistant United States Attorney, and I was an Assistant Federal Public Defender. The timing then was not right. I left the Public Defender's office and re-entered private practice. Joel continued prosecuting white collar crime for a few years and then joined a large firm in Columbia. Some years later, he went out on his own. I had started another law firm. For two years our practices paralleled each other. Finally, in late February 1984, Joel called and said, "If we're going to practice together, it's got to be now." So I left my old firm, and Collins & Lacy was born.
The success of our venture was almost immediate. Joel was the big name in litigation, and I was the workers' compensation professor at the law school. We excelled in both areas and soon became a five person law firm, then seven. Along the way, we were blessed with smart, talented associates, some of whom later became partners. Our mantra was "Always apply the 'do right' rule." We wanted to do the right thing by our clients, our lawyers, our employees…everybody. We live by that principle still today. I think that is the primary reason the firm grew from two partners and an associate to almost 30 attorneys in four offices across the state. We treat our clients like friends.