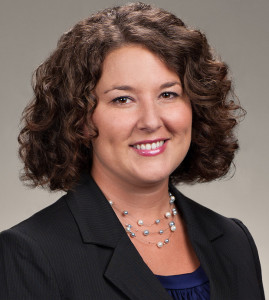 [COLUMBIA, S.C. January 21, 2015] – Collins & Lacy, P.C. is pleased to announce Amy Neuschafer has been selected into the 2015 Leadership Academy, sponsored by the South Carolina Bar. 
The SC Bar regards the course as a highly selective program designed to equip young lawyers (in practice from three to 10 years) with networking opportunities, professionalism training, and other skills to better position themselves in both the legal community and their community at large. For approximately six months, the class will meet once a month with each class focusing on a different topic. Opportunities to meet with judges and legislators while gaining insight into the skills necessary for community leadership are just some of the important benefits for participants.
"I am extremely honored to have been selected for the Leadership Academy class," said Neuschafer. "I look forward to working with a variety of colleagues in my profession, learning even better avenues of developing relationships with clients, judges and with people in the community as well."
Neuschafer is a senior associate practicing retail and hospitality law, appellate advocacy, premises liability and professional liability in the firm's Myrtle Beach office. She is experienced in defending national and regional leaders in the retail, hospitality and entertainment sectors doing business in South Carolina in claims alleging premises liability, loss prevention, food adulteration, third party torts and alcohol liability. She is listed as a South Carolina Super Lawyers Rising Star®.
 "Being part of this class is a great opportunity not only for Amy and her career, but it's also beneficial to the firm with all the valuable knowledge she will be gaining," said Christian Stegmaier, member of the firm's management committee. "We are all proud she was selected and know she will represent Collins & Lacy well."