Collins & Lacy, P.C. is asking businesses to give South Carolina children a chance by donating to Kids' Chance. Since 1992, Kids' Chance of South Carolina, Inc. has been helping the children of injured workers pay for school.  During its nearly 20 years of service, Kids' Chance has donated scholarship money to the child of a nurse who was killed by a drunk driver while helping a fellow motorist, to the child of a grocery store employee who was shot three times during an armed robbery and to the child of a police officer who was seriously injured in the line of duty.
Now, Kids' Chance needs your help.
Kids' Chance needs donations for its biggest fundraiser, the Silent Auction, which takes place during
the 35
th
Annual Educational Conference on workers' compensation in Myrtle Beach, South Carolina.  The conference is hosted by the
South Carolina Workers' Compensation Educational Association
and runs Sunday, October 16, 2011 through Wednesday, October 19, 2011.
The Silent Auction is October 16, 2011, which is less than one month away.  In order to make this event as successful as possible, Kids' Chance needs you to donate some big ticket items, such as:
weekends/weeks at vacation homes,
guided hunting/fishing trips,
golf carts,
tickets to sporting events,
artwork,
furniture,
lamps,
parking spot for USC or Clemson games; and,
USC/Clemson memorabilia.
Kids' Chance will also gladly accept smaller items, such as jewelry, gift baskets, wine baskets, serving pieces, spa packages, etc.  All items are tax deductible.
Some of the auction items already lined up for the October event include a four night vacation in Florida, two nights in Las Vegas with tickets to see the Blue Man Group, a signed baseball from University of South Carolina Two-time National Championship Coach Ray Tanner, and tickets to Cirque de Soleil.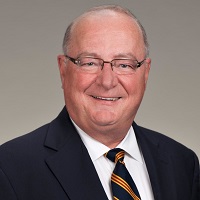 Stan Lacy (Center) poses with
guests at the 2010 event.
Since its founding, Kids' Chance of South Carolina has awarded more than $700,000.00 in scholarships to deserving students.  Last year's event raised $21, 493. Help us increase that number by at least $5,000.
If you are interested in contributing,
please contact
 me to complete the necessary information: 803-255-0456.
Hurry, the deadline to donate is Thursday, September 29, 2011.