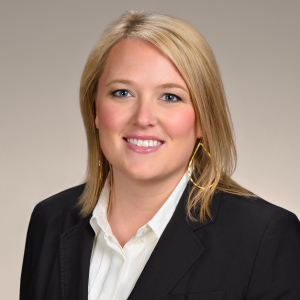 [COLUMBIA, S.C. – February 9, 2015] – Collins & Lacy, P.C. is pleased to announce Meghan Hazelwood Hall has joined the firm's Columbia office. Hall is an associate practicing in retail and hospitality law.
Hall's experience includes serving as a prosecutor for the First Circuit Solicitor's Office in Dorchester and Orangeburg counties, primarily handling child sexual abuse and domestic violence cases. In her practice, she will be defending national and regional leaders in retail, hospitality, and entertainment sectors doing business in South Carolina in claims involving premises liability, loss prevention, food adulteration, third party torts, and alcohol liability. Hall is involved in matters pertaining to licensure and other administrative decisions of state regulatory agencies.
"Meghan provides a great element to our Retail & Hospitality Practice Group," said Christian Stegmaier, chair of the group and member of the firm's management committee. "With her experience in the courtroom and trial work, she brings critical knowledge that can only help further develop the firm's goals of providing valuable and client-oriented legal representation."
Hall, a Columbia, South Carolina native, majored in English as an undergraduate of Furman University and received her Juris Doctor at Charleston School of Law.
"I am very excited about joining this exceptional group of lawyers at Collins & Lacy," said Hall. "We have an accomplished and experienced team of litigators who serve our clients' broad range of special needs and interests."