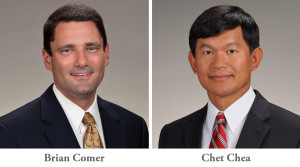 Collins & Lacy is pleased to recognize Brian Comer and Chet Chea for their commitment to community service.  Both attorneys have been named to Board of Director positions in the Midlands and Upstate.  Brian Comer is a member of the 2014 Central SC Chapter of the American Red Cross Board of Directors.  Chet Chea has joined the 2014 Board of Directors for the YMCA of Greenville Metropolitan.
"Community service and volunteerism is an integral part of the Collins & Lacy culture," said Managing Partner Mike Pitts. "Our attorneys and staff are committed to taking an active role in the communities in which we work and live."
Comer is a shareholder in the Collins & Lacy Columbia office and is chair of the firm's Products Liability Practice Group. Brian's role will include serving as a Red Cross advocate, and providing advice and counsel to the chapter executive director in developing local strategies to deliver the American Red Cross mission.
Based out of the Greenville office, Chea is the head of the Collins & Lacy Corporate and Business Law Practice Group. As a member of the 2014 Board of Directors, he will aid the YMCA's mission to strengthen Upstate communities through youth development, healthy living, and social responsibility.